Many years ago I read Dr Clarissa Pinkola Estés' groundbreaking book "Women That Run with the Wolves".
At least for me it was completely groundbreaking. It gave me the possibility of re-reading stories that are part of universal lore presented in an erudite, "exegetic" book. As it happens with many of these good books, WTRWTW crossed my path by chance (or perhaps not) at Cairns airport while waiting for a connecting flight back to Sydney. I had to "kill" nearly four hours in between flights, so I decided that the best thing to do would be to buy myself a book. Probably the best "impulse purchase" of my whole life, and believe me when I say I've allowed myself more than my fair share of impulse purchases …
Nearly nineteen years after that afternoon at Cairns airport, a few weeks ago at the gym, I bumped into Lauren Kennedy, one of my gym and aqua mates. After the Body Balance class we both took, she pinned up a poster on the communal corkboard at the entrance: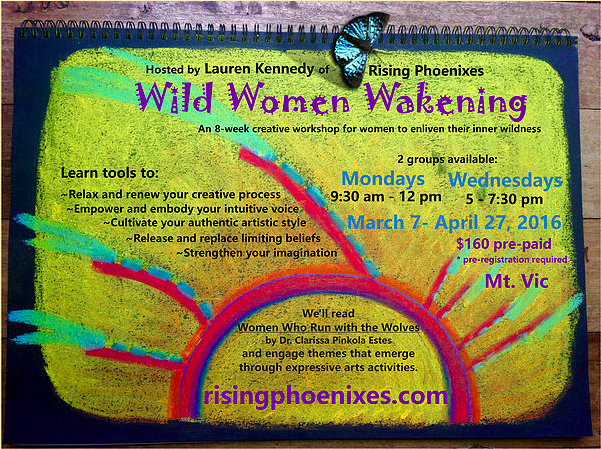 I didn't have to think it over twice, and announced to Lauren that I wanted to participate and a few hours later I signed up for Wild Women Wakening. More often than not, those hunches tend to work to my advantage when they're informed by deep intuitive knowledge rather than on a whim. Clarissa Pinkola Estés, the wolves and the enormous wealth of intuitive knowledge  that "Women That Run with the Wolves" brought into my life was conjured up from my subconscious depths. Yay! 🙂
On Day 1, though, I was feeling really sad and disconnected. My creative thoughts had gone missing in action, until Lauren handed us our sketchbooks. My drawing is pretty bad, but colour pencils lit a pilot creative light that flickered on. I wrote this:
We spoke about "La Loba" and read the short story from WTRWTW. I had this vision of a trip in the desert, with all its typical colours. I'm driving a Tesla car, and quickly find myself in the middle of nowhere. Fear turns into panic and I stop.
The sky is studded by a million stars and I begin to yield into the grandeur of its infinity and mystery.
"I don't know where I am. I don't know and I don't care.

No sé dónde estoy. No sé ni me importa.
Without giving it a second thought, I step out of the car. Nothing around me, nothing but "darkness visible".
I should be…
Scared!!!
But I am not! And yet I know I'm not alone. She's with me — La Loba!
I don't dare turn around. My feet won't move.
FROZEN FEET, FROZEN ME!
Stars everywhere, but no Moon.
'Hear me!' says La Loba. 'Oi!'
I feel like an impostor, but she doesn't know.
'Hear me!' she repeats. 'You'll be fine. You're not alone. You'll be a friend of the stars. I'm here and so are the bones… Those bones…'
At the sole mention of bones, I'm left wondering if I should be afraid, but I'm not.
'I'll teach you things. You'll start with bones and create life. BE LIFE! You're not alone!'
In all fairness to my dear readers, I have to say I had intended to write a "diary" of the workshop, which has already run for a whole month and will continue until the end of April. But in the same breath I decided that the creative "muscle" that I'm exercising every Monday morning doesn't need to become part of a discussion in the online world. Some "innerspaces" should remain so, methinks. Self-marketing time lasted almost two years (part of 2014 and most of 2015).  I'm now engaged in self-reflection, and enjoying it 🙂
All the same I'd love to mention my fearless fellow "creatresses", Marilyn and Claire, in whom I found kindred spirits, as well as in Lauren herself. It's become a very exciting part of my weekly routine to catch up with them in that beautiful space we share in Mount Victoria, and share our personal creative journeys in a spirit of cooperation and mutual support.
Have a nice evening and see ya later, FFJ 🙂